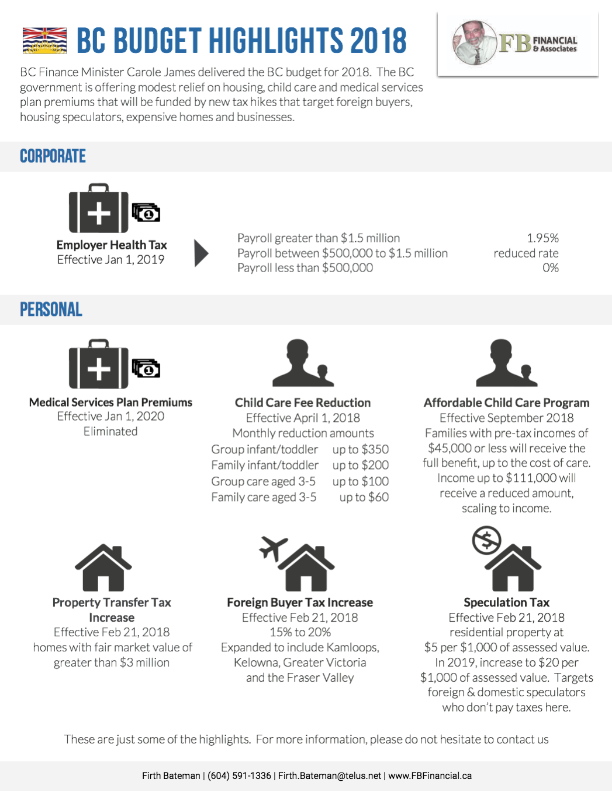 BC Finance Minister Carole James delivered the province's 2018 budget update on February 20, 2018. The budget anticipates a surplus of $219 million for the current year, $281 million for 2019 and $284 million in 2020.
Corporate and personal tax rates remain unchanged.
The biggest changes are:
Elimination of Medical Services Plan (MSP Premiums) effective January 1, 2020
Addition of the Employer Health Tax (EHT)
Provincial Property Taxes
Childcare
The Employer Health Tax and Medical Services Plan premiums:
Effective January 1, 2020, the Medical Services Premium (MSP) will be eliminated. In last year's budget update, MSP was reduced by 50% effective January 1, 2018. Starting in 2019, the budget introduces the Employer Health Tax (EHT). The EHT is to help fund the elimination of the MSP premiums.
The Employer Health Tax will be calculated as a percentage of payroll:
Provincial Property Transfer Taxes
Effective February 21, 2018, the following will occur:
The provincial property transfer taxes (PTT) will increase to 5% (from 3%) on residential property values above $3 million.
The PPT applies to foreign purchasers of residential properties in BC will increase to 20% (from 15%) and the tax will extend to include the Fraser Valley, Capital, Nanaimo and Central Okanagan Regional Districts.
There is a new speculation tax on residential property in BC. This tax is targeted at foreign and domestic homeowners who don't pay income tax in BC. Starting in 2018, it's a rate of $5/$1,000 of assessed value, in 2019, this will increase to $20/$1,000.
Childcare
There will be a new affordable child care benefit that will reduce child care costs by up to $1,250 per month per child by 2020. The new benefit will apply in September 2018. Families with pre-tax incomes of $45,000 or less will receive the full benefit, (up to the cost of care) while those who make up to $111,000 will receive a reduced amount, scaling based on income. The government will be releasing an online benefit calculator to help parents budget.
The budget will provide up to $350/month directly to licensed child care providers to reduce fees. They will be the following:
Up to $350/month for group infant/toddler care
Up to $200/month for family infant/toddler care
Up to $100/month for group care for children aged 3-5
Up to $60/month for family care for children aged 3-5
To learn how these changes will affect you, please don't hesitate to contact us.